Hello! My name is Maddie and I am from Seattle, WA.
Growing up, I always had an interest in art and would often experiment with different mediums. Whether it was drawing and painting, photography and videography, or sewing and sculpting, I always wanted to try new things, and still do! As a Design major, I've found different ways to utilize digital art in the real world. For example, digitizing and designing logos to be made into merchandise for businesses, such as sweatshirts, stickers, water bottles, etc. I am passionate about art and am excited to pursue a career in the design world.
Crystal Infused Candles: Self-Promotion


For this project, I decided to make my own soy candles infused with mini crystals as a self-promotion product. My goal was to create a unique, promotional product displaying my brand identity. MH Design gains inspiration from nature and spirituality while being dedicated to spreading goodness. I chose candles with crystals because I wanted to create a product that could be functional as well as align with my brand identity.


Birth Control Infographic: Infographic Design

I decided to make an infographic about birth control in the U.S. for this project. It was important to me to create something that was easy to follow and could be useful to everyone, not just women. I believe that everyone should have proper knowledge about birth control methods, health benefits, side effects, etc. in order to make informed decisions in their own lives regarding this topic. For the design of this piece, I wanted to make it seem conversational because a topic such as birth control is not often talked about and can sometimes be uncomfortable. Due to this, I used common questions someone may ask regarding birth control and answers with graphics to help the viewer gain a mental and visual understanding.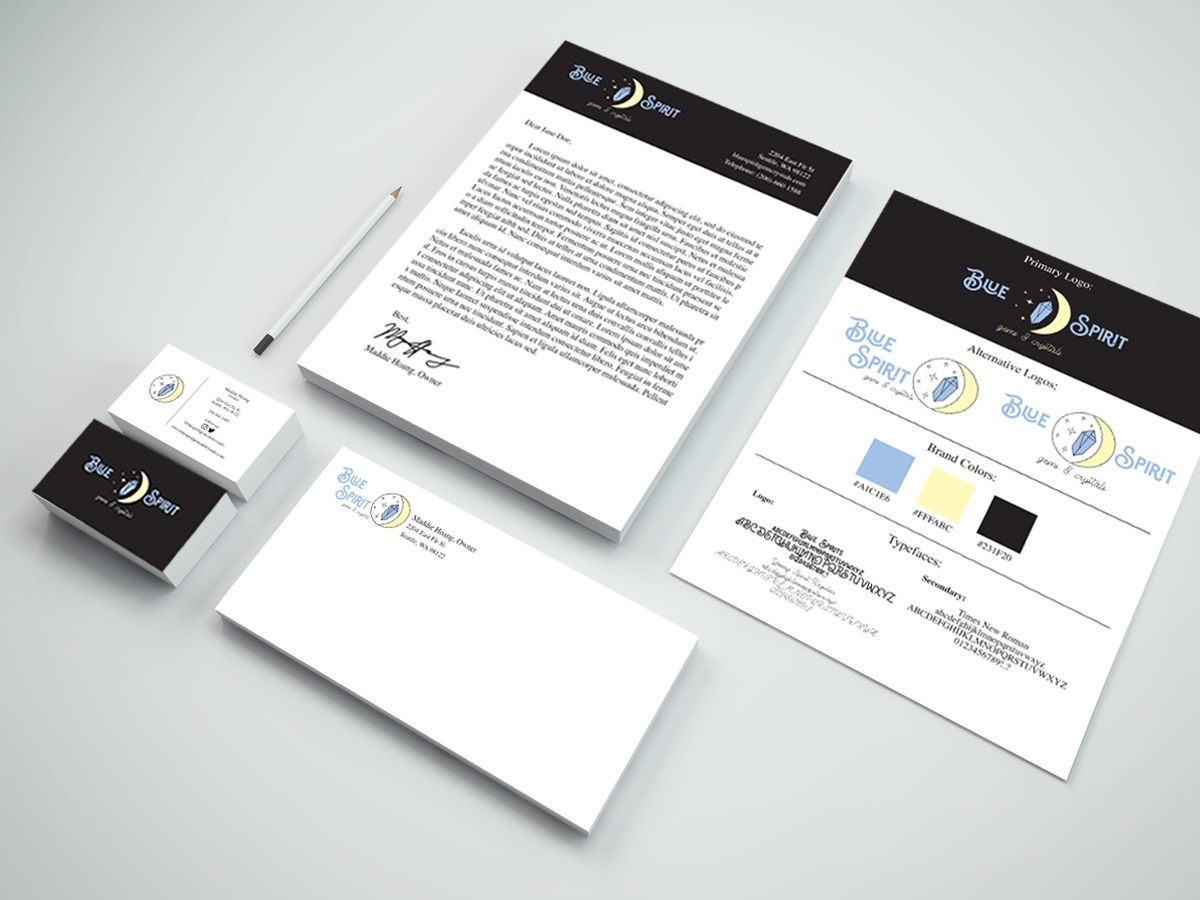 'Blue Spirit' Logo & Brand Identity: Logo Identity


For this project, I came up with a company called "Blue Spirit" which is a business that sells crystals and other holistic remedies. I wanted the design to capture the company's values, including spirituality, healing, and humanism. With these values in mind, I designed the logo to depict soft colors, handwritten script text, and holistic illustrations. "Blue Spirit" is meant to be an inviting, comfortable place where people can socialize, feel safe, and share their similar interests while being provided information and products for a balanced mind, soul, and body.


DIDS.ZIP EXHIBITION SEATTLE, WA